Train in an industrial career for free...

FOR STUDENTS
Train in an industrial career…for FREE and secure a job in $100Billion Refinery Expansion Projects…Choose from 3 Tracks – Industrial, Electrical/Solar, Digital!
Make $17-$22/hour to start

70% get placed within 2 weeks

Hands On & Classroom Training

Classes taught in English

NCCER Core Certified for FREE

OSHA 10 Certified upon Selection

FOR EMPLOYERS
Hire hands-on trained green hands from underserved communities in Beaumont & Port Arthur & Orange

Save over $12,500 per new hire

Fill your Abatements for local labor

KEEP your HR dollars – we do the vetting for you!

New Hires come already certified in NCCER Core, OSHA10 upon selection and Motorized Equipment Training

GOLDEN TRIANGLE EMPOWERMENT CENTER RECEIVES EXXONMOBILE GRANT

When companies hire local, it helps entire communities to prosper. Thank you @ExxonMobil Beaumont for supporting our agency's mission to connect individuals in the Charlton-Pollard and South Park communities to workforce training programs that will strengthen their chances of gaining meaningful employment. This year alone, we've served 18 Southeast Texas residents with NCCER certification.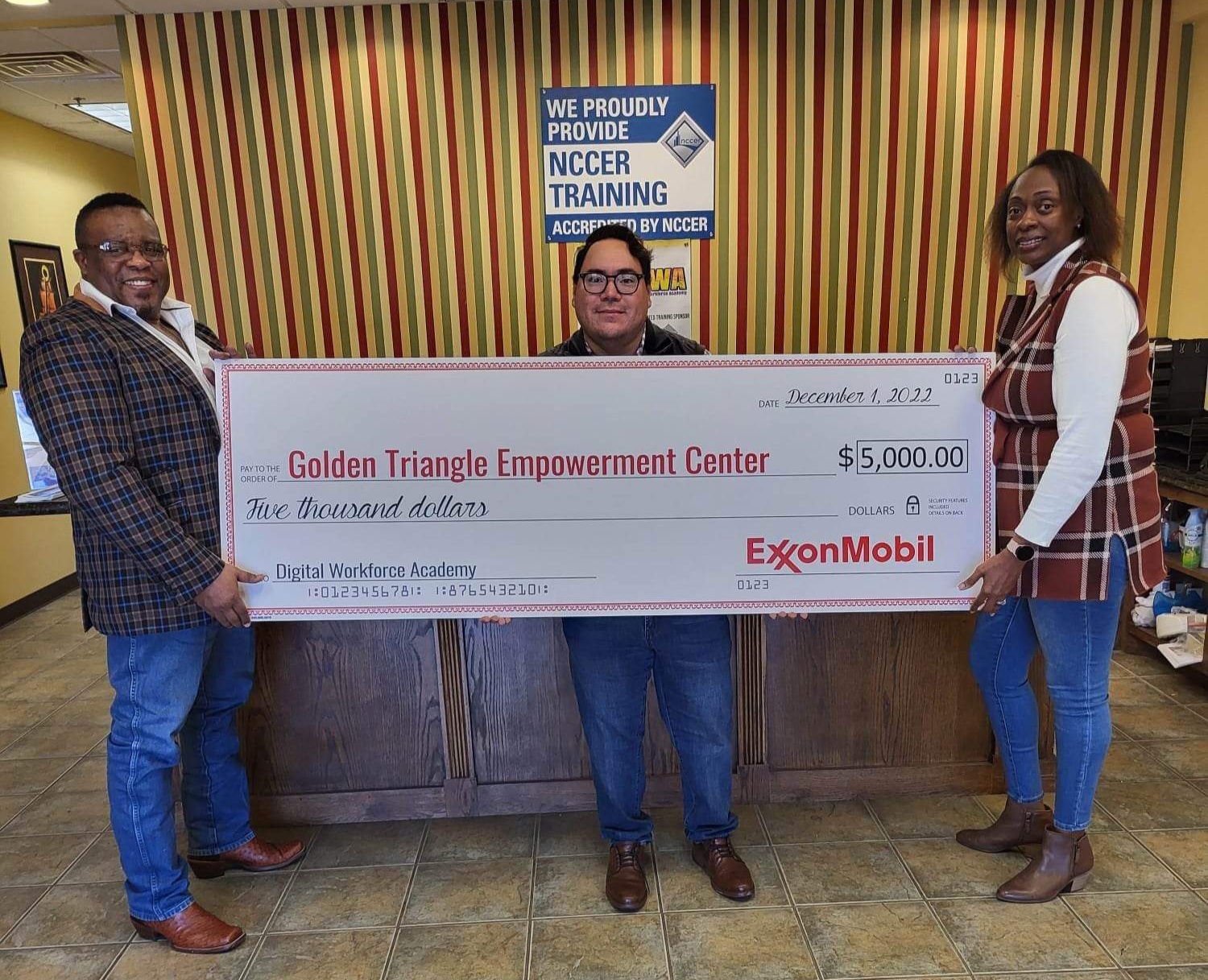 ENERGY TRANSFER DONATES $75K TO GOLDEN TRIANGLE EMPOWERMENT CENTER

Golden Triangle Empowerment Center (GTEC), which provides job training and placement services for overlooked and underserved communities in the Port Arthur area, today received a $75,000 donation from Energy Transfer. The donation from the Dallas-based midstream company will enable GTEC to purchase new equipment to help the nonprofit organization transition their curriculum into a virtual learning environment.

"This generous donation from Energy Transfer will allow us to purchase new computers to increase the number of students we train and place as we transition to an online environment," said Melvin White, founder of GTEC. "Since the pandemic, we have had to adjust our curriculum to maintain a safe environment for our students and staff. As the majority of our students come from underserved communities, they do not always possess the technical equipment required now that we are transitioning to a virtual environment. This donation will allow GTEC to loan students the newly purchased laptops and hotspots to complete their coursework from the safety of their homes."

NOW SERVING THE COMMUNITY OF ORANGE AT WEST ORANGE-STARK HIGH SCHOOL.
Locations
617 Procter St Port Arthur, Texas 77640
1400 Newton Street  Orange, Texas 77630